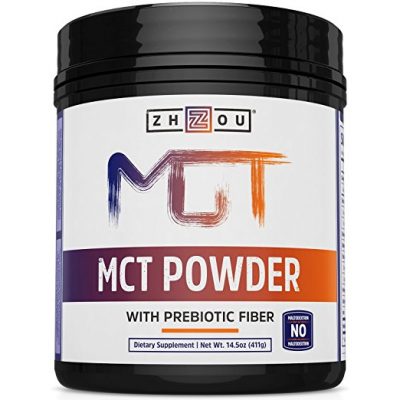 Healthy living is a big commitment! Today's Deal can help when you Save 30% on Zhou Nutrition top selling supplements. Choose from lots of great products for whatever your needs might be: Stress, Spirulina, Calm, DHEA, Turmeric, and many more! Get MCT Oil Powder with Prebiotic Acacia Fiber for only $18.88. You'll be saving $8.
CREAMY CONVENIENCE- If you love the benefits of liquid MCT oil, but are frustrated by the mess it makes, the stomach upset, or just how impossible it is to travel with, then this powder is for you. Zhou Nutrition's MCT Oil Powder + Prebiotic Fiber is portable, mixes easily into food and beverages, and adds a smooth, creamy texture to smoothies, coffee and other favorite recipes that you'll have to taste to believe.

MCT FAT SOURCE- With ZERO grams Net Carbs & ZERO grams Sugar, Zhou's MCT Oil Powder is truly the perfect way to add MCT fats and fiber to your diet. Just one scoop provides 4g of MCT fats and 18% of your daily value of fiber. The prebiotic acacia fiber helps to support a happy gut microbiome.

PREBIOTIC ACACIA FIBER- By now you probably know the benefits of a diet high in fiber (healthy bowel function, heart health, balanced glucose levels, the list goes on). The Acacia fiber included in Zhou's MCT powder has the added benefits of a prebiotic fiber, offering powerful gut-healthy properties that can help increase the ratio of good bacteria in your gut and assist weight management – all without the stomach discomfort.

KETOGENIC FUEL- Those of us living the Keto lifestyle incorporate MCT's daily because they easily convert to ketones, giving the brain and muscles a fuel source for physical energy and mental acuity. Pair MCT's with prebiotic acacia fiber and you have a ketogenic powerhouse you'll love adding to your daily routine. Of course, you don't have to be "keto" to enjoy the benefits.

ZHOU's 'LOVE IT' GUARANTEE – We're so confident that you'll love the taste and benefits of our MCT Powder with Prebiotic Fiber, that we'll give your hard-earned money back if you're not thrilled with your purchase. Simply contact Zhou Nutrition DIRECTLY for a refund. No tricks, no excuses. Just the best guarantee around.
This post contains affiliate links.