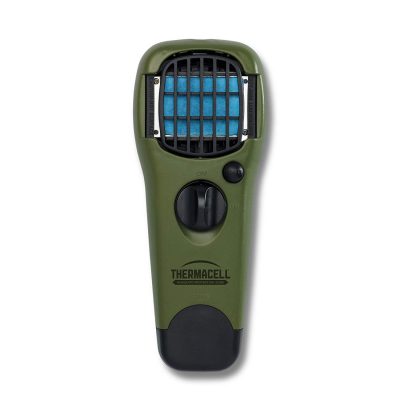 Today only, Save up to 30% on Select Thermacell Products. Where I live, mosquitoes are absolutely relentless and swarm the yard three seasons of the year! I'd try almost anything to keep them at bay in my backyard. I might try the Thermacell MR150 Portable Mosquito Repeller, Olive Green; it's only $17.49 today!
Large Area of Protection — Lightweight and conveniently sized, the repeller keeps mosquitoes away in a 15-ft zone for 12 up to hours of protection; no hassle and no mess; 100% satisfaction guarantee

DEET-Free, Scent-Free, Spray-Free —More time can be spent in the great outdoors without lotions or chemical sprays on skin which cause lingering smells and messes to clean up; no game-spooking odors

Family-Friendly and Easy to Use — Thermacell MR150 Portable Mosquito Repeller is highly effective and trusted; with no open flame, it is ideal for a family-friendly environment on the patio or yard

Portable and Convenient — Perfect for campers, hunters, fishers, hikers, kayakers, gardeners, boaters, farmers or anyone who wants to enjoy time outdoors without annoying mosquitoes

Sleek Design — The attractive olive green exterior blends in with surroundings; the lightweight, portable mosquito repeller features a quiet operating mechanism perfect for any outdoor adventure
This post contains affiliate links.