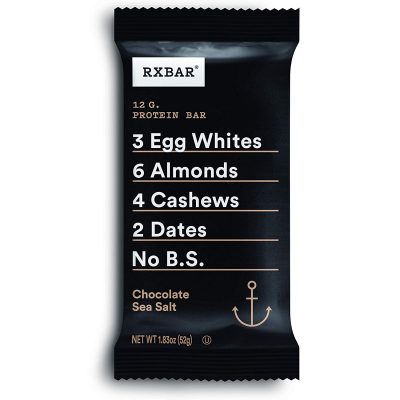 Today only, save up to 30% on Select Protein and Breakfast Bars. Choose from Special K, Kind, Kashi, Health Warrior and several more! Not all protein is created equal. We really like egg whites. They're cholesterol-free and their protein is easily absorbed by the body. Other less-complete proteins are not easily processed, so much of that protein remains unused by the body. For us, that won't do. Today only get RXBAR, Chocolate Sea Salt, Protein Bar, 1.83 Ounce (Pack of 12) Breakfast Bar for only $13.91.
A REAL FOOD PROTEIN BAR: Our Chocolate Sea Salt RXBAR is the perfect protein bar for any brownie lover. Made with real food ingredients- 100% chocolate, egg whites for protein, dates to bind, nuts for texture. 12g of protein. 5g fiber. Gluten free.

ANYTIME HIGH PROTEIN SNACK: It's always the perfect time for a wholesome snack. That's why we suggest trying this real food protein bar for breakfast time, lunch time, or as a pre or post workout snack. Eat the whole snack bar or save some for later.

GLUTEN FREE AND GUILT FREE SNACK: Paleo, check. Whole30, check. Guilt and gluten- free, double check. RXBARs are the perfect protein bar for any healthy lifestyle. Check out RX Nut Butter for a keto snack option.

ON-THE-GO PROTEIN PACKED FUEL: RXBARs are great for the office, on-the-go snacks, or just a wholesome treat. Grab one bar for a protein-packed pre or post workout snack and get the energy you need.

WE'RE THE BAR THAT RAISED THE PROTEIN BAR, BAR: At RXBAR, we make protein bars. Simple real food ingredients, no gluten, no added sugar*, and no B.S.
This post contains affiliate links.