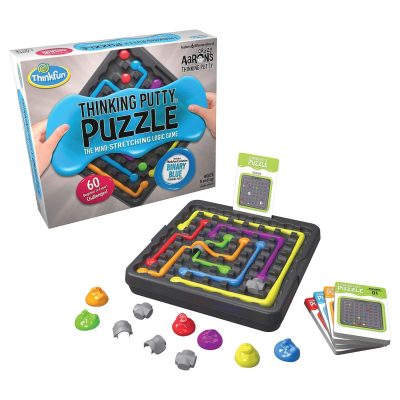 Amazon's Deal of the Day is a HUGE selection of board games up to 30% off! There are over more than 100 games to choose from and some really amazing deals in the mix for some of my family's favorites like SpotIt and King of New York.What could be better than a game mixed with Aaron's Thinking Putty? ThinkFun and Crazy Aaron's Thinking Putty Puzzle and STEM Toy for Boys and Girls Ages 8 and Up – The Famous Thinking Putty in Logic Game Form is only $22.49 today. That's a savings of $7.50!
What you get – The Thinking Putty Puzzle includes 6 colors of the popular Crazy Aaron's Thinking Putty, a puzzle grid, a base with storage, 3 bridge pieces, 3 blocker pieces, and 60 challenge cards with solutions.

Clear instructions – Easy to learn with a clear, high quality instruction manual. You can start playing immediately!

How to play – Connect the same-colored dots by creating same-colored paths of Crazy Aaron's Thinking Putty without crossing different colored Thinking Putty paths. It's unique play experience makes it one of the best gifts for boys and girls ages 8 and up.

Comes with multi-level challenges – Thinking Putty Puzzle comes with 60 beginner to expert challenges that become increasingly difficult as you play through them.

Develops critical skills – Playing through the challenges builds reasoning and planning skills, providing a great stealth learning experience for young players.
This post contains affiliate links.