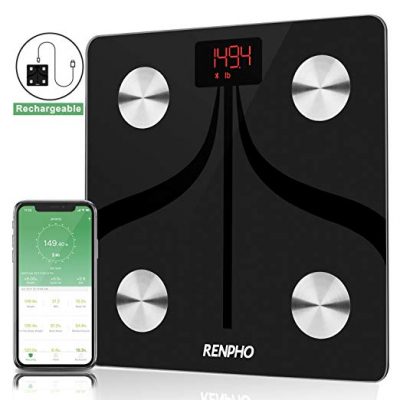 Ready to get serious about weight loss? You'll need a serious tool to track your progress! Save up to 30% on RENPHO Smart Body Scales today. RENPHO Smart Scale tells you 13 key metrics including: body weight, BMI, body fat%, water %, skeletal muscle, fat-free body weight, muscle mass, bone mass, protein, basal metabolism, Visceral Fat, Subcutaneous Fat and body age. Click here to check out the RENPHO scale for only $23.09 today. 
Smart App Syncs with Fitness Apps – RENPHO App syncs with Samsung Health, Apple Health, Google Fit, and FitBit APPs. Millions of satisfied users.

13 Body Composition Analysis – Uses BIA (Bioelectric Impedance Analysis) to track Weight, BMI, Body Fat Percentage, Water %, Skeletal Muscle, Fat-Free Body Weight, Muscle Mass, Bone Mass, Protein, Basal Metabolism, Visceral Fat, Subcutaneous Fat and Body Age. You can even use the scale even without your phone nearby. The data will sync to the app once it is connected again!

Rechargeable Internal Battery and High Quality – USB rechargeable function with a built-in lithium battery. Device features auto-calibration, high precision sensors measure up to 396lbs/180kg capacity, 5 mm tempered glass platform designed to ensure a long lasting life. If the scale cannot wake up with fully charged, please press the reset button on the back of the device.

Free App for Unlimited Users – Download RENPHO app for FREE at Apple App Store/Google Play. RENPHO App works with Bluetooth 4.0 or above version. RENPHO app allows you to add unlimited user account, one scale for the whole family!

100% Satisfaction Guaranteed – Local US-based Customers Service office. FDA/CE/FCC/ROHS Certificated.
This post contains affiliate links.