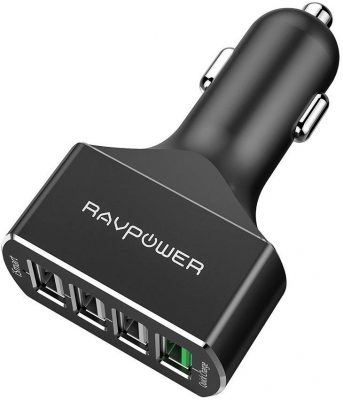 Keep your strength up with RAVPower Portable Chargers; click here to save 30% today only! Choose from power banks, chargers, and lightning cables to keep everything at 100% power! Quick Charge 3. 0 – The next Gen charging technology with the latest smartphones featuring better and more powerful Specs year after year, having the most power in the shortest time possible is more important than ever. That's where the latest Qualcomm Quick Charge 3. 0 steps in: by relying on advanced algorithms to determine what Power level is needed at any time, It recharges all supported devices up to 4x faster than with a conventional charger. Get the Car Charger 4-Port QC3.0 RAVPower Quick Charge 3.0 54W Car Adapter with iSmart 2.0 Tech for only $11.99. 
4x Faster Charging with QC 3.0: Enjoy a superior charging experience with the latest Qualcomm Quick Charge 3.0 that's 4x faster than conventional charging.

54w & 4 Usb Ports: Recharge up to 4 tablets or smartphones at once at maximum speed with 1 Quick Charge 3.0 and 3 iSmart USB ports.

iSmart For Fast And Safe Charging: Rely on the iSmart 2.0 technology that detects all connected devices and provides the optimal charging output for a faster and more stable charge.

Sturdy Aluminum Build: Discover a durable aluminum alloy design that feels light in the hand and will withstand scratches and drops from daily use.

Full Protection: Charge safely with the charger's built-in safeguards to prevent overheating, overcharging, and short-circuit.
This post contains affiliate links.