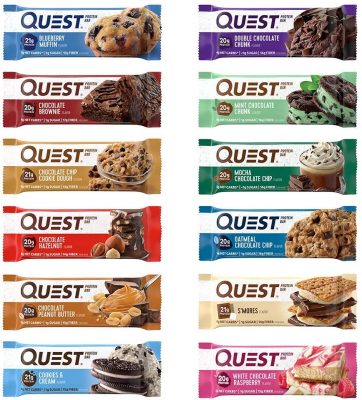 Today only, save up to 30% on Quest protein favorites. Quest Nutrition Protein Bars are great by themselves but can also be baked into a delicious meal, dessert or breakfast treat. The Quest Nutrition Ultimate Variety Pack, High Protein, Low Carb, Gluten Free, Keto Friendly, 12 Count is only $17.39 today. 
20-21g Protein, 4-6g Net Carbs, < 1-3g Sugars, 14-16g Dietary Fiber, 170-200 Calories, 4.5-8g Fat

Certified Gluten-Free by the Gluten-Free Certification Organization.

No added sugar and keto-friendly protein bar

Includes 1 bar each of the following flavors: Blueberry Muffin, Double Chocolate Chunk, Chocolate Brownie, Mint Chocolate Chip, Chocolate Chip Cookie Dough, Mocha Chocolate Chip, Chocolate Hazelnut, Oatmeal Chocolate Chip, Chocolate Peanut Butter, S'mores, Cookies and Cream, and White Chocolate Raspberry
This post contains affiliate links.