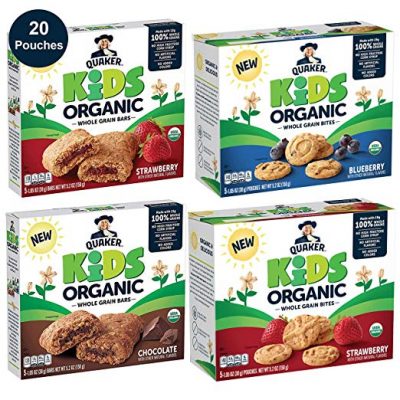 Get ready for school snacks with this Deal of the Day: Save up to 30% on Quaker Chewy Bars! Choose from lots of varieties from Chewy to Dipps with Kids Organic as a healthier option. This Quaker Kids Organic Multigrain Bars and Bites, Sampler Pack, 20 Pouches is only $11.99 or less if you select Subscribe & Save. Whole grain soft-baked bars and crunchy oat bites combine oats with fruit-forward or chocolate flavors for a unique and delicious snack!
Includes 4 (5.2 ounces) boxes of Quaker Kids Organic Whole Grain Snacks; 1 (5ct) box each of Blueberry and Strawberry Organic Bites & 1 (5ct) box each of Strawberry and Chocolate Organic Bars

Crunchy oat bites and soft-baked bars provide 11-16 grams of 100% whole grains, are certified organic and are made with simple flavors that your kids will love.

Quaker Kids Organic Whole Grain Bars and Bites are made with no high fructose corn syrup, no artificial flavors or preservatives, and contain no added colors

With every bite, you will delight their taste buds and give them fuel to help create more adventures

At 120 Calories or less and 0-1.5 grams of saturated fat per serving Quaker Kids Whole Grain Bites and Bars are the perfect snacks to take on the go that you can feel good about feeding your kids
This post contains affiliate links.