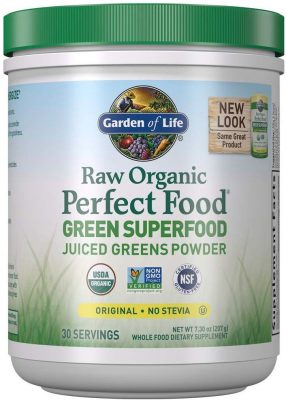 Click here to save up to 30% on 'plant based' proteins and more. Find deals on Elderberry, Coconut Oil, and all kinds of protein powder beverages! We are fanatical about food. We're different that way. Whether we're making a vitamin, or a probiotic, or a protein powder, we always start with real foods and these (foods) provide our formulas the power to be their best. We're different that way, too. The synthetically created, chemical "breakthroughs" from huge commercial laboratories around the world are not for us. Get Garden of Life Raw Organic Perfect Food Green Superfood Juiced Greens Powder, Plant Based Dietary Supplement – Original Stevia-Free, 30 Servings for only $22.04 today!
Superfood supplement: This greens powder is packed with raw organic greens, sprouts and vegetable juices for raw energy

Whole Food supplement: Our whole food greens supplement provides naturally occurring antioxidants, enzymes, amino acids, essential fatty acids, and dozens other phytonutrients

Immune System support: This superfood supplement supports healthy digestion, detoxification, a healthy immune system, and already healthy blood sugar levels and metabolism

Digestive support: our greens powder is bursting with live probiotics and enzymes for digestion SUPPORT

Vegan greens: this superfood powder is vegan, Certified Organic, and dairy free, with no whole grass fillers and no preservatives
This post contains affiliate links.