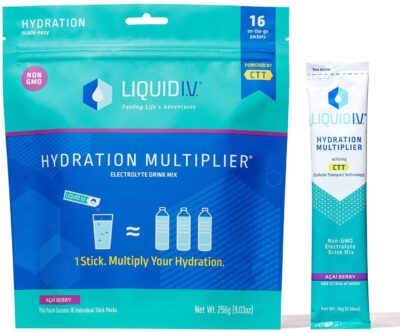 Today only, Save 30% on Liquid I.V. Hydration & Energy Multiplier Products. Liquid I.V. is powered by the breakthrough science of Cellular Transport Technology, or CTT, which is designed to enhance rapid absorption of water and other key ingredients into the bloodstream. Translation? Feel better. Faster. Liquid I.V. Hydration Multiplier, Electrolyte Powder, Easy Open Packets, Supplement Drink Mix (Acai Berry) (16) is only $16.74 today!
✅ Non-GMO electrolyte powder mixes into 16 oz of water for rapid hydration. 75% of americans suffer from chronic dehydration, that means you are probably dehydrated right now. Even breathing and walking cause the body to lose water & can lead to dehydration.

✅ Utilizes breakthrough science of Cellular Transport Technology (CTT), a specific ratio of potassium, sodium, and glucose that delivers water and other key nutrients directly to your bloodstream, hydrating you faster and more efficiently than water alone.

✅ 1 packet can provide the same hydration as drinking 2-3 bottles of water. Maximize your hydration, replenish your body. Daily dangers of dehydration include headache, dizziness, confusion, muscle fatigue, muscle cramping, fainting and fuzzy thinking.

✅ Three times the electrolytes of traditional sports drinks with less than half the sugar and calories. Contains 11 essential minerals and vitamins & more Vitamin C than an orange, more potassium than a banana. 110% Daily Value of Vitamin C, B3, B5, B6, and B12

✅ Liquid I.V. Satisfaction Guarantee – Returns are not permitted on the marketplace for this product category, however if for any reason you are not satisfied, please message our store through the marketplace messaging interface and we will refund your purchase.
This post contains affiliate links.