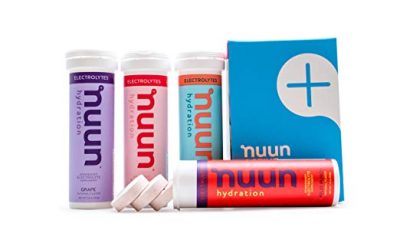 Today only, save up to 30% on Nuun's top selling hydration products. When you sweat, your body loses vital minerals and electrolytes that need to be replaced for healthy recovery and ongoing performance. Nuun Electrolytes provides the perfect balance of ingredients for mineral replenishment and optimal hydration. Click here to try Nuun Hydration: Electrolyte Drink Tablets, Juicebox Mixed Flavor Pack, Box of 4 Tubes for only $11.39 or less if you select Subscribe & Save. 
Nuun Hydration: Electrolyte Drink Tablets, enhanced with electrolytes and bursting with a natural, low calorie fruity flavor, mix into a hydrating drink to keep up your energy and hydration no matter how active you get or how much you sweat.

Nuun Hydration's Electrolyte Drink Tablets enhance your workout or your work day naturally through improved hydration. Keep a tube from this multi-pack in your gym bag, car, purse, hiking pack or anywhere you'll want to mix up a healthy, replenishing drink

Great for working out, hiking, cycling, exercise, sports or daily use to improve and replenish your energy and endurance and prevent cramps, whether running a marathon or running errands. Nuun's Drink Tablets use no artificial flavoring or sweeteners.

Add 1 of the 10 tablets in each tube to your water bottle so your body gets more from the water you're drinking. Our commitment to a clean product, clean planet, and clean sports means your performance comes from good hydration and hard work.

Nuun 'Active' is now Nuun Hydration: Electrolytes. The Nuun product you know and love hasn't changed, still delivering the clean, hydrating formula that inspires a healthier, happier, more active lifestyle. Replenish electrolytes without the carbohydrates.
This post contains affiliate links.