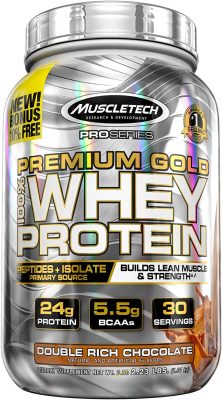 Click here to Save up to 30% on MuscleTech Products today! Whey protein is the king of proteins! Bodybuilders and other athletes have relied on this easily absorbed, high biological value protein to help them build muscle as part of their training programs for more than 20 years. High-quality whey protein contains high amounts of the amino acid leucine, one of the key building blocks of muscle and a key trigger of protein synthesis in the body, and is also high in other BCAAs – making it perfect for muscle recovery post-workout. Get MuscleTech Premium Gold 100% Whey Protein Powder, Ultra Fast Absorbing Whey Peptides & Whey Protein Isolate, Double Rich Chocolate, 30 Servings (2.2lbs) for only $14.06 today!
ULTRA PREMIUM PROTEIN FEATURING WHEY PROTEIN ISOLATE AND PEPTIDES: Each scoop is packed with 24gram of whey, including high quality whey peptides, whey protein concentrate and whey protein isolate

MICRO FILTERED TO REMOVE LACTOSE, CARBS AND FAT: This premium whey protein isolate provides your body with the highest biological value (BV) protein fractions

FAST ABSORBING WHEY PEPTIDES: Whey Peptides have the powerful ability to promote rapid recovery from exercise and improve nutrient delivery

BEST IN CLASS TASTE: Premium Gold 100 percent Whey Protein delivers all the mouthwatering, decadent taste of your favorite milkshake, while still delivering quality nutrition without the extra fat and carbs that many other protein powders have

FULLY DISCLOSED FORMULA: Each bottle of Whey Protein is fully disclosed with no proprietary blends or hidden or under dosed ingredients
This post contains affiliate links.