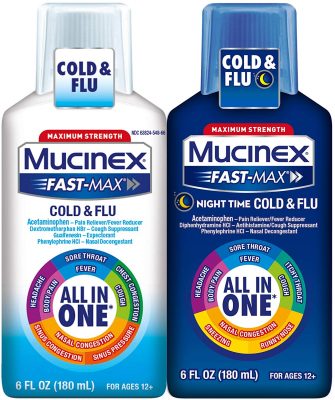 It's that time of year! Today only, save up to 30% on Mucinex cold and flu relief. Sometimes, when you're sick, you're really sick. Sore throat, stuffy nose, fever, headache, cough – you name it, you´ve got it. With all these symptoms, it's hard to get to work during the day or go to sleep at night. Maximum Strength Mucinex Fast-Max Day Time Cold & Flu & Night Time Cold & Flu Liquid Gels won´t put up with any of it. This combo pack gives you multi-symptom relief in a single dose, helping relieve your pesky day and night symptoms. Click here for the Cold Cough & Flu, Mucinex Fast-Max All in One Day/Night Time Cold & Flu Liquid 12oz (2x6oz) for $15.13!
1 Dose, 9 Symptom Relief, Max Strength Day & Night Formula

Day & Night: Relieves Aches, Fever, & Sore Throat

Day & Night: Controls Cough

Day Time: Relieves Nasal & Chest Congestion, Thins & Loosens Mucus

Night Time: Relieves Runny Nose & Sneezing
This post contains affiliate links.