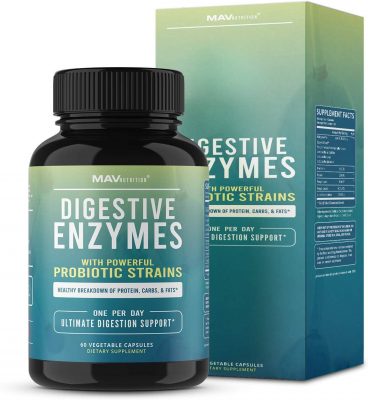 Save 30% or more on MAV Nutrition Products today! Choose from Fish Oil, Collagen, Elderberry and many more! Take one (1) capsule, preferably 20-30 minutes before, or with a meal, for best results. Please speak with your physician prior to starting any new dietary supplement as they know your biological systems the best. Get MAV Nutrition Digestive Enzymes & Probiotics, Digestion Aid with 3 Strains, Shelf Stable, Non-GMO, 60 Count for only $13.49! 
ULTIMATE DIGESTIVE COMFORT. Our daily probiotic digestive enzymes are designed to help the body properly digest proteins, fats and carbohydrates resulting in better nutrient absorption and less digestive discomfort*.

PROVIDES GAS & BLOATING RELIEF. This probiotic supplement provides digestive support and constipation relief and relieves pain, discomfort, gas and bloating associated with hard to digest foods like lean protein, high-fiber foods and super smoothies.

SUPPORTS GUT HEALTH. Your gut, or "second brain" regulates hormones and is crucial to overall wellness. Our probiotics are formulated with 3 potent strains of good bacteria, plus the powerful digestive enzyme blend you need to support healthy guts*.

BOOSTS ENERGY LEVELS. When your digestive system works efficiently, your body absorbs more energizing nutrients and wastes less energy digesting food*. Our digestive enzymes will provide the support you need to live a comfortable, active lifestyle*.

EFFECTIVE FOR ALL FOOD TYPES. Our digestive enzyme supplements contain powerful enzymes for digestion chosen for their ability to tackle and break down the most difficult proteins, fats and complex carbohydrates*.
This post contains affiliate links.