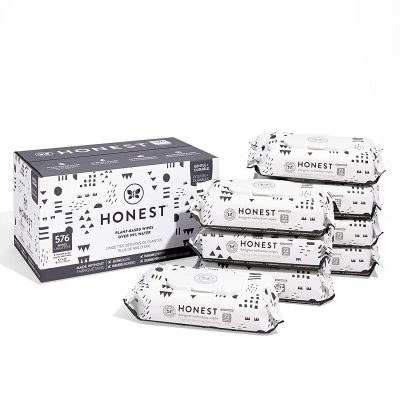 Here's your chance to stock up on baby items at a great discount! Click here to save 30% on items from the Honest Company! You'll find shampoo, bubble bath, diapers, wipes and much more! Honest is taking care of business, cheek to Cheek. Honest baby wipes provide the convenience of a disposable cloth baby wipe in a plant-based and hypoallergenic alternative. From wet bottoms and messy fingers to sticky counters and gunked-up toys, This wipe can do it all. They're available in a variety of cute Prints and convenient sizes to handle messes at home or on the go, Perfect for your purse, Diaper Bag or anywhere you might need an emergency stash! These wipes are cute enough to be used as a design statement! Made without fragrances, alcohol, parabens, or quaternary ammonium compounds, our pure and gentle formula supports healthy skin. The hygiene-grade cloth, Made from sustainably harvested plant-based materials, is ultra-thick, super-absorbent, and durable. Honest Wipes are infused with a blend of pomegranate, Chamomile, cucumber, and masterwork leaf for a natural experience. Get the The Honest Company Baby Wipes for only $26.59 today only. That's a savings of $11.39!
Honestly Clean: Honest Wipes Provide the Convenience of a Disposable Cloth Baby Wipe in a Hypoallergenic and Plant-Based Alternative: The Wipe That Can Do It All, From Wet Bottoms and Messy Fingers, to Sticky Counters

Pure and Gentle: The Pure and Gentle Formula Supports Healthy Skin. It's Infused with a Blend of Pomegranate, Chamomile, Cucumber, and Masterwork Leaf for a Natural Experience. Our Wipes Are Ready to Clean Your Baby from Head to Toe

Made Without: Alcohol, Parabens, Phthalates, Lanolin, Phenols, Sls, Chlorine Processing, or Quaternary Ammonium Compounds Because You Shouldn't Have to Choose Between What Works and What's Good for You

Plant-Based: Perfect for Kids, Our Wipes' Medical-Grade Cloth Is Made from Sustainably Harvested Plant-Based Material and Is Ultra-Thick and Durable. They're Embossed and Interlocked for Extra Loft and Softness and for Easy Pop-Up Dispensing

Honest Purpose: We Love Our Babies. We Love Your Babies. That's Why We Err on the Side of Caution When It Comes to Ingredient Selection, Doing Our Best to Avoid Chemicals of Concern. We Use Smart Ingredients and Create Trusted Products That Work
This post contains affiliate links.