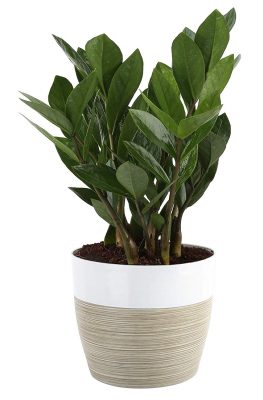 Want to cozy up the indoors for the cold season? Add more plants! Today only, save up to 30% on Indoor Gardening. Looking for an easy-to-grow houseplant? Check out ZZ plant — it's truly one of the toughest around, making it a perfect choice to add to your home or office. Whether you're able to give it steady care, travel a lot, or just get distracted by all the stresses of daily life, ZZ plant survives it all. Plus, it looks good: The plant features shiny, dark green leaves that look waxy (some people even think they're plastic). Haven't heard of ZZ plant? You're not alone; it deserves a lot more attention than it gets. It was discovered in Eastern Africa in the 1800s, but it wasn't until the 1990s that it really took off as a houseplant. While ZZ plant isn't exactly rare, it's still catching on — so grow ZZ plant and you can be ahead of the trend. What makes ZZ plant such a good houseplant is that it's wonderfully tolerant to a wide range of conditions, including low light, low humidity, and periods of drought. Click here for the Costa Farms ZZ Zamioculcas zamiifolia, Indoor Plant, 12-Inch Tall, only $21.74 today. 
The hz plant is one of the easiest houseplants to grow. Low maintenance, drought tolerant, excellent indoor plant. Great for beginner plant parents.

Ships well rooted in a Costa Farms brand grower pot dropped into in a light-weight White-Natural Décor Planter Made from a 100% recyclable #5 Material and comes ready to be displayed in your home.

Tolerates being in rooms with any light condition; water when soil is dry, drain any excess water.

Plant height at shipping is from 12-14 inches tall, measured from the bottom of the pot to the top of the plant

Grown by the experts at Costa Farms; ships fast, direct from our farm to your home.

For questions about your plant please don't hesitate to contact us at questions@costafarms.
This post contains affiliate links.