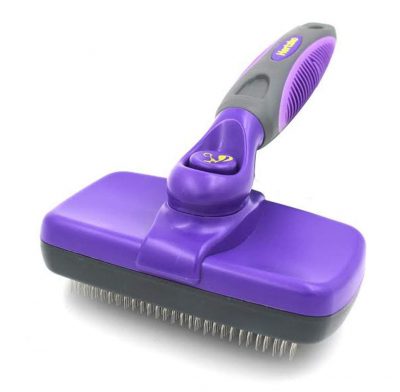 Today only, Save up to 30% on Hertzko Pet Grooming Products, including this brush and pet nail grinder! The Hertzko Self Cleaning Slicker Brush is only $11.50 today and it's a pet must-have according to the enthusiastic reviews. 
The perfect brush to get all nasty mats out of your pet's fur. Hertzkos Slicker Brush gently removes loose hair, and eliminates tangles, knots, dander and trapped dirt. Works great on dogs and cats with all sizes and hair types!

Get rid of mats without hurting her – The bristles are fine bent wires designed to penetrate deep into the coat and is really able to groom the undercoat well without scratching your pet's skin!

Easy to clean – When you're done brushing your pet, simply click the button and the bristles retract back into the brush, making it super simple to remove all the hair from the brush, so it's ready for the next time use.

Your pet will not only look good but feel great too! Our brush grooms and massages for a healthy coat, increasing blood circulation and leaves your pets coat soft and shiny. Your pet will love being brushed!

Comfortable, strong, and durable – Our Slicker Brush is specially designed with a comfort-grip and anti-slip handle, which prevents hand and wrist strain no matter how long you brush your pet!
This post contains affiliate links.