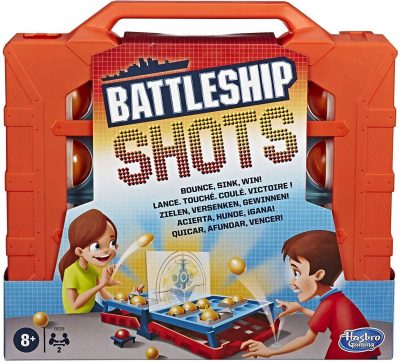 It's officially time to start thinking about Christmas gifts, and here's a great place to start! Today only, save up to 30% on Hasbro Games. The popular choices include: Simon, Risk, Monopoly, Operation, LIFE and Scrabble. My family's favorite card game, Monopoly Deal is only $3.99! Get Hasbro Gaming Battleship Shots for only $12.99. 
t'Different twist on the battleship game: battleship, the classic game of Naval combat, has a different twist on gameplay. Bounce or toss balls over the divider and land shots in ships to sink and win

Fun, active game: This battleship shots ball-bouncing game gets players up and out of their seats As they bounce or toss their balls at their opponent's battleships

Head-to-head combat: both players can get bouncing at the same time in this battleship shots game of strategy, skill, and a bit of luck. Sink opponent's life raft with the red Ball for an automatic win

Portable carrying case: The battleship shots game comes in a portable, fold-up case for easy and convenient storage

Be strategic: each player gets 3 Ships with 2 holes each, and a yellow life raft. Land all 7 shots to win or sink The yellow life raft with the red Ball for an instant victory
This post contains affiliate links.