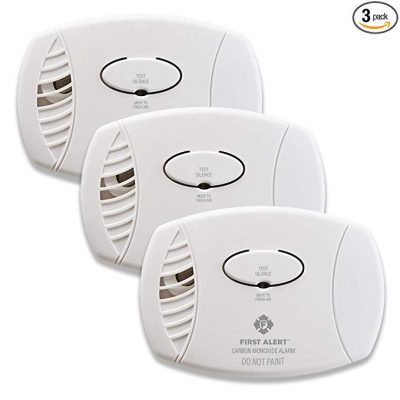 Keep your home safe when you save 30% on First Alert Smoke and CO Alarms. Choose from various models starting at only $14.88. Get the First Alert Plug-In Carbon Monoxide Detector with Battery Backup, 3-Pack for only $45.41. The First Alert CO605 Plug-In Carbon Monoxide Alarm with Battery Backup utilizes an electrochemical carbon monoxide sensor to accurately and effectively warn you of elevated CO levels. The plug-in design and included battery backup mean your space can be continuously monitored for dangerous carbon monoxide gas, even during power outages. Simply plug the alarm into a 120-volt outlet, and the personal carbon monoxide detector is ready to go.
Keep your family safe from carbon monoxide in multiple rooms with this convenient plug-in carbon monoxide alarm 3-pack; the alarms work with any standard outlet and also have a battery backup for continuous monitoring of CO levels, even if there's a power failure

Features an advanced electrochemical carbon monoxide sensor that accurately detects carbon monoxide levels, no matter where the detector is placed in the room

Simple to use, with a single test/silence button; a loud 85-decibel alarm sounds when Carbon Monoxide levels reach dangerous levels

To ensure complete protection make sure to place one on each level of your home and in each bedroom

7-year limited warranty; equipped with end-of-life signal chirp, so you know when it's time to replace the unit for safety

All First Alert CO alarms are rigorously tested to meet UL standards
This post contains affiliate links.