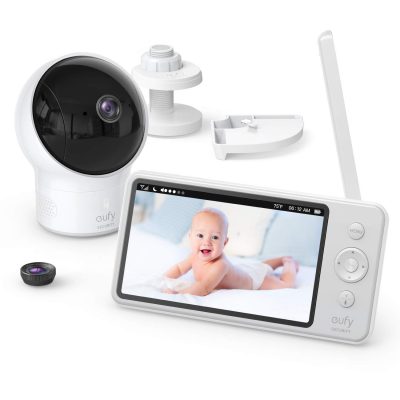 Prioritize security and peace of mind when you click here to save up to 30% on eufy Home Security Systems! Boasting 10 times more detail than standard 240p baby monitors, SpaceView's 5 inch HD display shows a crisp and clear picture, day and night. Included wide-angle lens attachment allows for 2 viewing angles, combined with 330° pan and 110° tilt angle to offer a full view of your nursery. Click here to snag the eufy Security Spaceview S Video Baby Monitor with 5 inch LCD Display for only $139.99. 
See Up To 87% More: The large 5″ 720p display shows a sharp picture with 10 times more detail than ordinary 240p-display baby monitors

Wide-Angle Lens Included: No need to purchase another lens. When your baby starts to crawl or run around, just attach the extra lens to expand the view to 110°

Sleep Soundly: Choose from 5 popular lullabies to help put your little one to bed

Whole-Room Coverage: Pan the lens 330° to see corner-to-corner and tilt 110° to see floor to ceiling

Real-time Broadcast plus Instant Alerts: Stay within the 460ft coverage area to get live video feeds, and receive instant alerts the moment when your baby starts crying
This post contains affiliate links.