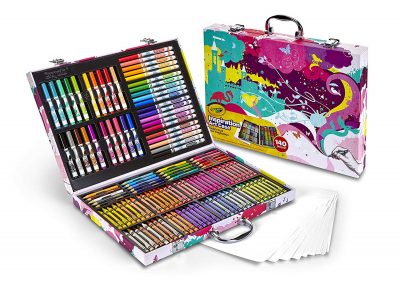 Today only, Save up to 30% on Easter Favorites from Crayola. The selection includes markers, finger paint, construction paper, and lots more! The Crayola Inspiration Art Case is all-in-one portable art studio with dozens of crayons, pencils, markers, and sheets of drawing paper that can keep you creating for hours. The pretty pink art case has a special compartment for each drawing tool, so you won't misplace anything. Pack up all your supplies and unleash your creativity any time, any place. For ages four and up. Get it today for only $17.49! 
COMPLETE KIT: This art kit contains 64 crayons, 20 short colored pencils, 20 Pip-Squeak washable markers, 20 fine tip washable markers and 15 large sheets of drawing paper, all conveniently stored in a stunning graphic travel case.

CREATE ART ON THE GO: A portable art studio you can take anywhere. Set your imagination free! Draw, doodle, color in your favorite coloring books or add colorful flair to your next school project. The creative possibilities are endless.

CREATIVE PROJECTS: Whether you're creating a landscape masterpiece or decorating t-shirts with your Girl Scouts troop, Crayola has the markers, pens, kids markers, paints, colored pencils & crayons you need to make your project pop in bold, bright colors.

CRAYOLA ART KITS: Our art kits help kids keep things clean & organized. Parents & teachers love them just as much as kids! A kit can house colored pencils, chalk, markers & more. They're an easy gift with unlimited possibilities for artistic inspiration!

FROM MARKERS TO SIDEWALK CHALK: Markers for kids or adults, washable paints, bright crayons, even scented markers, we've got it all! Crayola gives kids the power to express all that inspires them as they explore, discover, play, pretend, create & dream.

TRUSTED QUALITY: Crayola is passionate about helping parents & educators raise creative children who will become inspired, original adults. We've inspired artistic creativity in children since the first box of Crayola crayons rolled off the assembly line.
This post contains affiliate links.