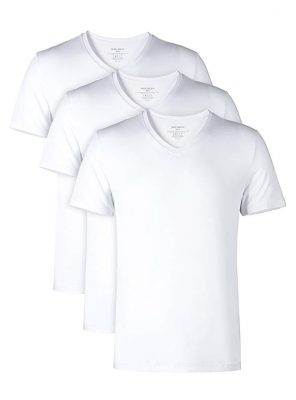 Stock your closet with Today's Deal: Save up to 30% on David Archy Underwear. You'll find boxers, shirts, briefs and socks, all at a discounted price point. Get this David Archy Men's 3 Pack Micro Modal & Bamboo Rayon & Supima Cotton Soft Comfy V-Neck and Deep V-Neck Undershirts for only $27.99. That's a $16 savings! BeechwoodFiber: MicroModal fiber is extracted from beechwood. The beech tree is quite unique and has grown in Europe for a very long time. Directly from beechwood forests, Modal gives each and every textile a natural image.
Micro Modal: 92% Micro Modal+8% Spandex; Bamboo Rayon: 95% Bamboo Rayon+5% Spandex; Supima Cotton: 94% Supima Cotton+6% Spandex

Imported

Four Kinds of Style Available: Micro Modal Standard V neck shirts, Micro Modal Deep V neck tees, Bamboo Rayon Standard V neck shirts, Supima Cotton Standard V neck shirts

Smooth Soft: High-end Micro Modal & Bamboo Rayon & Supima Cotton fabric, to bring you ultra comfort and softness

Classic V-Neck Undershirts: With flated lines; can't be seen underneath a button down / Deep V-Neck Shirts: Perform well as basic undershirts beneath dress clothes

Close-Fitting And Tagless: Improved size and shape to make the deep V/V neck t-shirts more fitting; ideal as both underwear and outerwear

Stay Tucked: Perfect length for better tucked in as base layer shirts
This post contains affiliate links.