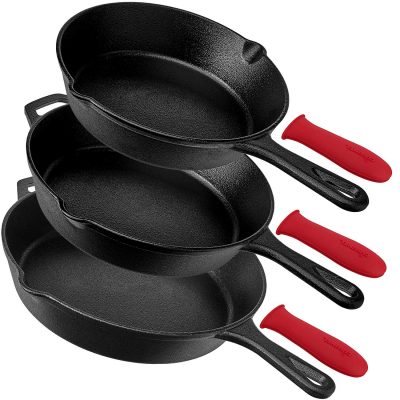 Save up to 30% on Cuisinel Cast Iron Cookware and Organization today. The Cuisinel Cast Iron Skillets can be enjoyed in the kitchen, on your backyard grill, or even on an open fire while you're camping. Tough enough to last for generations, even improves with use! Get the Pre-Seasoned Cast Iron Skillet 3-Piece Chef Set (8-Inch, 10-Inch, 12-Inch) Oven Safe Cookware for only $34.99. If you'd like to organize your new cast iron collection, check out the cast iron rack here!
PRECISION HEAT DISTRIBUTION – These cast iron skillets have a smooth finish to help provide even heat distribution for improved cooking and frying, even on grills, stoves or induction cooktops.

TRUE COOKING VERSATILITY – The Cuisinel cast iron skillet pan can be used for frying, baking, grilling, broiling, braising, and sautéing meats, vegetables and more!

SUPERIOR CRAFTSMANSHIP – Each all-purpose fajita skillet is crafted with seasoned cast iron that can outlast years of regular cooking and washing for long-term reliability.

EASY TO CLEAN & MAINTAIN – Cast iron cookware should be hand washed with warm water and restored with natural oils; that means no soap or dishwasher use.

1 YEAR MONEY BACK GUARANTEE – Every Cuisinel product is backed by a 1-year, no-hassle guarantee to ensure your total satisfaction. Purchase risk free!
This post contains affiliate links.