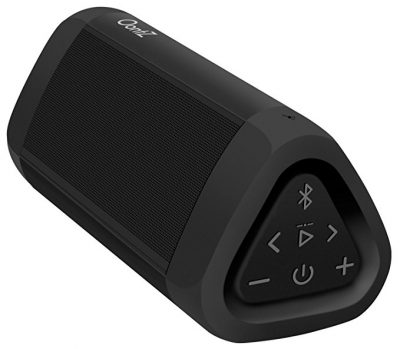 Amazon's deal of the Day is 30% savings on Cambridge Soundworks Speakers. Enjoy quality sound at the best possible price! One of the options is this OontZ Angle 3 ULTRA 14 Watts Portable Bluetooth Speaker for only $29.99. Check out the features that make this speaker a winner!

SUPERIOR SOUND QUALITY WITH RICH FULL BASS – Our digital audio processor pumps up the bass and enhances the clarity of the mids and highs; 14 Watts of power delivers surprisingly loud room filling volume from the dual precision stereo drivers and proprietary bass radiator; distortion free stereo sound even at max volume – the perfect home speaker and travel speaker

100 – FOOT BLUETOOTH RANGE – Play up to 100 feet away from your device; our advanced antenna design with Bluetooth 4.2 provides fast connection and incredible wireless Bluetooth range of up to 100 unobstructed feet from your audio device

PLAY YOUR MUSIC TO TWO OONTZ ANGLE 3 ULTRA SPEAKERS – Wirelessly connect two OontZ Angle 3 ULTRA speakers together to play your music with awesome stereo separation from your Amazon Echo, Amazon Echo Dot, iPhone, iPad, Smartphone, Tablet; play your music in two different areas up to 100 unobstructed feet apart; for playing audio from a video, your device or TV needs to be connected to the OontZ Angle 3 ULTRA using the 3.5mm audio cable; each speaker sold separately

WEATHERPROOF SPLASHPROOF RAINPROOF IPX6 – The Perfect Shower speaker – IPX6 certified to resist water spray and splash; cannot withstand being partially or fully submerged; comes with long 6' Micro-USB charging cable AND 3.5mm audio cable; Official OontZ Angle 3 ULTRA Carry Case sold separately on Amazon

PLAY UP TO 20 HOURS ON A SINGLE CHARGE – Play from morning till night with up to 20 hour playtime; UPDATE SUPPORT – the OontZ Angle 3 ULTRA can easily be updated with the latest features and performance enhancements – Update your OontZ Angle 3 ULTRA for push to talk Siri support, when connected to your iPhone or iPad, just press the speaker for Siri; the update also reduces a delay in the audio playback from a video or TV allowing an OontZ Angle 3 ULTRA to play in sync with the video
This post contains affiliate links.