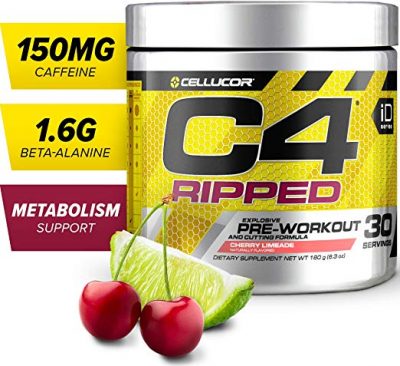 Make your workout complete with Today's Deal: Save up to 30% on C4 pre-workouts and XTEND BCAAs. We've been pioneering, building, and perfecting pre-workouts longer than most brands have been in sports nutrition. We're obsessed with research, improvement, and results. We're innovators and leaders, and we're not new to our work. We have a legacy of building the best, most effective pre-workouts available.
Additionally, you'll find zero sugar, calories, or carbohydrates in the formula, with ingredients to support energy, endurance, and pumps. Click here to score C4 Ripped Pre Workout Powder Cherry Limeade | Creatine Free + Sugar Free Preworkout Energy Supplement for Men & Women | 150mg Caffeine + Beta Alanine + Weight Loss | 30 Servings for only $19.99 today!
America's #1 Pre-Workout Brand

150mg of Caffeine Per Serving

0 Sugar, 0 Calories, and 0 Carbs Per Serving

C4 Ripped Weight Loss Blend

1.6g CarnoSyn Beta-Alanine
This post contains affiliate links.