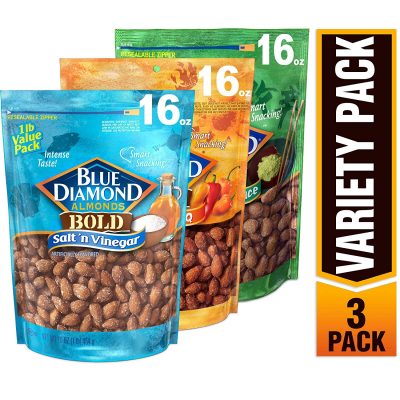 Make this holiday season a healthier one when you snack on nuts! Click here to save up to 30% on Blue Diamond Almonds. Satisfy your snack cravings with all of the best of Blue Diamond's famous BOLD flavors Bold Salt n' Vinegar, BOLD Habenero BBQ, and BOLD Wasabi & Soy Sauce. Craving something tangy, salty, and sweet? Grab a handful of our best selling BOLD Salt n' Vinegar almonds sure to tame your cravings. Looking for something with a little more heat with a bronco busting barbecue flavor? Give our BOLD Habenero BBQ Almonds a try they will not disappoint. Need a flavor to excited your taste buds? Grab a bag of our BOLD Wasabi & Soy Sauce Almonds a wasabi kick with a salty, sweet finish. With Blue Diamond Almonds BOLD Variety Pack, you'll be sure tame any snack craving. Get the Blue Diamond Almonds BOLD Favorites Variety Pack for only $17.35. 
3 of Blue Diamond's BOLD Flavors sure to tickle your taste buds and satisfy your snack cravings

Perfect for snacking

3 grams of fiber, 0 grams trans fat

Cholesterol Free

Contains 3 16 ounce bags featuring 1 of each of these Blue Diamond Almonds favorite flavors Salt 'n Vinegar, Habanero BBQ, Wasabi and Soy Sauce
This post contains affiliate links.