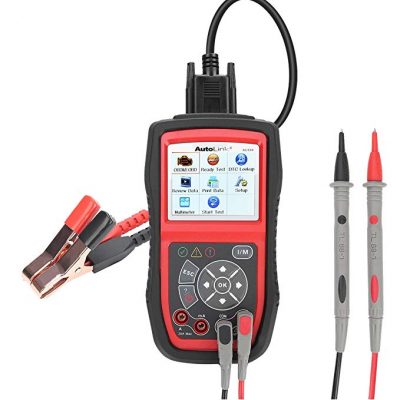 Want to stay on top of car problems? Save up to 30% on Autel Professional Diagnostic Scanners today. Autel AutoLink AL539B OBDII/EOBD Scanner is an ultimate automotive analyzer that combines AVOmeter, Battery Test and Code Reader specially designed to work with most 1996 and newer American, Asian and European OBDII/CAN compliant vehicles, which offers comprehensive vehicle analysis for rapid, accurate diagnosis and timely repair. Get the Autel AutoLink AL539B Full OBD2 Code Reader, Avometer, Battery Tester 3-in-1 for OBDII Diagnosis and Electrical Test for only $71 today! 
Feel free to get technical support via emailer Q&A if you are unsure whether the scanner tool is suitable for your vehicle, or any questions.

BATTERY TEST: AL539B, a expanded function OBD2 scanner with the additional capability of battery testing, is a great solution for you to quickly and accurately test most types of 12V batteries, including AGM, standard and maintenance-free batteries

CIRCUIT TEST: It is not only a simple OBD2 code reader but also a top-rated battery tester with AVOmeter. It will be easy for you to quickly access information about voltage, continuity and current of any vehicle for battery status analysis

EMISSION-RELATED FEATURE: Except the special battery test function, this OBD2 scanner's basic functions are emission-related diagnoses, I/M readiness status check, O2 sensor test, on-board monitor test which are necessary on passing emission tests

MIL TURN-OFF: The most direct and typical functions of this code scanner is to turn off the check engine light (MIL), which is completed via clearing the stored fault codes after the problems are solved

FASTER DIAGNOSES: For faster and more convenient diagnosis, the Autel code reader AL539B supports DTC lookup for detailed codes information retrieval, data playback and print capability for convenient vehicle health status analyzing
This post contains affiliate links.