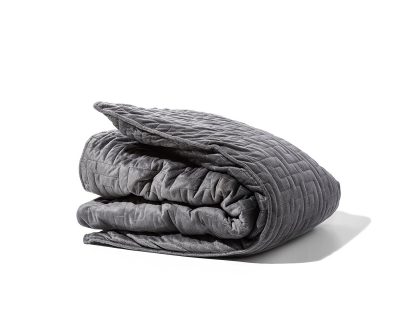 Grounded in science, the Gravity Blanket is the world's most popular weighted blanket for naturally induced sleep and relaxation. Weighted blankets are engineered to be 7-12% of your body weight to relax the nervous system by simulating the feeling of being held or hugged. This increases serotonin and melatonin levels and decreases cortisol levels—improving your mood and promoting restful sleep at the same time. Today you can save 28% on the Gravity Blanket!
A premium-grade, therapeutic weighted blanket that uses "deep touch pressure stimulation" to help improve mood and promote restful sleep and relaxation

WEIGHT: Available in 15lb, 20lb, and 25lb variations; recommend selecting a weight that is 7-12% of your bodyweight

DIMENSIONS: 1 size of 48 inches x 72 inches to provide a grounding experience for 1 person at a time

MATERIALS: exterior duvet is made of super soft micro-fiber and is detachable from internal weighted blanket; internal blanket has gridded stitching to ensure the microbeads remain uniformly distributed; internal clasps keep the blanket soundly in place inside the duvet

MACHINE WASHABLE: both the blanket and duvet are machine washable
This post contains affiliate links.