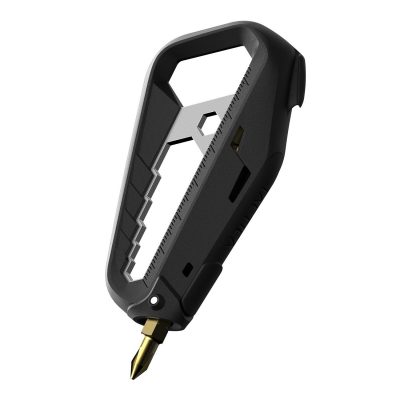 Design is not just about what it looks like, it's about how things work. The Tactica M100 is the result of extensive research and development to ensure it fits the needs of our customers. Pairing materials typically used in military and aerospace applications, the Tactica M100 features the best in lightweight and strong composite technology with the hard-wearing properties of hardened stainless steel. The result is a multitool designed to perform and built to last. Save 25% on the Tactica Multitool and get it today for only $29.89. 
TACKLE ANY CHALLENGE: The M100 multi tool adapts to your needs and ensures you have the tools to tackle any challenge. The internal storage compartment allows you to pick and choose the tools you might need for your next outing. Whether it's snowboarding, mounting biking around town or the home, it's your choice and you can be rest assured it's got your back.

FEATURE PACKED: The M100 multi-tool comes with 18+ tools, including metric and imperial wrenches and rulers, box cutter, bottle opener and screwdriver with light and heavy duty sockets. TSA air travel compliant and tech friendly – the composite body won't scratch your latest phone or tablet. It comes with phillips and flat heads drives as standard.

RECORD BREAKING DESIGN: The M100 is the highest funded multitool in crowdfunding history, bringing together design, materials and technology. A world first design, high tech composite body delivers an ultralightweight and ergonomic form combined with a hardened stainless steel chassis for all the heavy lifting. The perfect tool for people on the go.

UNIQUE INTERNAL STORAGE: A patented design with internal storage compartment allows to you change your loadout to suit your carry. Simply pick the 2 x 1/4 drive heads that you need for the day – torx, pozi drive, the choice is yours.

ALWAYS THERE WHEN YOU NEED IT: The best tool is the one that you have on hand, with its compact size and ultra-lightweight design, you can rest assured that your M100 multitool is there when you need it the most.
This post contains affiliate links.