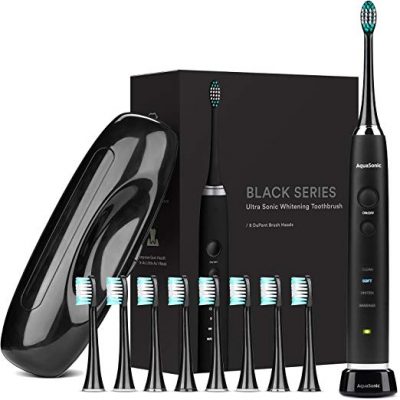 Today only, save up to 25% on Pure Daily Care and Aqua Sonic Products. Choose from this AquaSonic Black Series Ultra Whitening Toothbrush for only $27.71 or the Skin Therapy Wand. Forget the cheap and inconvenient USB charging of competitors. Black series uses modern ultra fast wireless charging that begins as soon as you set it back on its charging stand.
0,000 VPM SMART TOOTHBRUSH – Beauty, brains and power. The Black Series toothbrush is a world class modern electric toothbrush packed with the most up to date technology. It features an ultra-powerful and industry leading motor producing 40,000 vibration per minute , ultra-fast wireless charging, 4 mode operation, smart vibration timers, 8 DuPont engineered brush heads and bristles, and a custom travel case; all with a sleek ultra-slim, lightweight and IPX7 rated waterproof design.

A COMPLETE CLEAN – AquaSonic removes 10x more plaque along the gum line than a manual toothbrush and 3x more plaque than legacy outdated electric toothbrushes. Whitening mode helps whiten teeth by using inverted frequencies to dissolve surface stains. Massage mode goes beyond teeth to improve gum health by delivering soothing micro-bursts into tissue to improve circulation and overall health.

8 DUPONT BRUSH HEADS & TRAVEL CASE INCLUDED – Every Black Series toothbrush comes with 8 brush heads engineered by world famous DuPont; a world leader in quality & materials science. Each brush head lasts 4 months so 8 will last for over 2.5 years. Also included is a convenient custom hard shell travel case made of BPA Free plastic with space for two brush heads. AquaSonic can last 4 full weeks (2 min/2x a day) on a full charge so its perfect for on the go travel with the included travel case

MODERN TECHNOLOGY – Black Series brings toothbrushes into modern times with its built in enhanced features. Ultra fast wireless charging (forget cheap USB charging), 4 distinct brushing modes and a smart vibrating notification timer are some of the enhanced features built in to the sleek and ergonomic waterproof black satin handle

OUR GUARANTEE – Try it; if you don't love it simply return it for a full refund. No questions asked. We are an American based business that answers all inquiries within 24 hours. We also email you a complimentary 1 year extended warranty with every purchase so your covered now and in the future
 This post contains affiliate links.