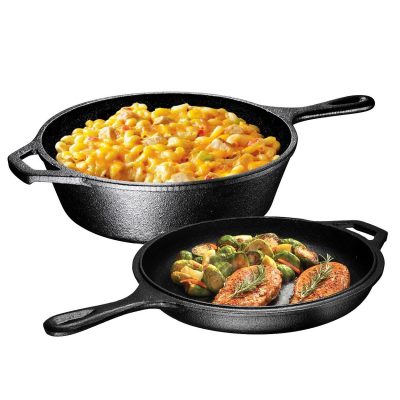 If you want to make your holiday cooking even easier and more authentic, what you need is some heavy duty cast iron cookware! Save 25% on Pre-Seasoned Cast Iron Cookware Today! Choose from multiple pans starting at only $16.88. Get the Ultimate Pre-Seasoned 2-In-1 Cast Iron Multi-Cooker By Bruntmor Heavy Duty 3 Quart Skillet and Lid Set, Dutch Oven Frying Pan for only $26.14.
DISCOVER THE HEALTHIEST WAY TO COOK YOUR FOOD – It's time to say goodbye to chemicals and flimsy cookware. The Bruntmor ultimate pre-seasoned cast iron Multi-Cooker set is here to help you eat healthier and cook your food more efficiently than ever!

THIS IS THE LAST SKILLET YOU'LL EVER HAVE TO BUY – One thing that separates cast iron cookware from the rest is extreme durability. Our sturdy skillet and lid set is made to withstand abuse and endure high temperatures, so that you don't have to spend money on new skillets every other year!

LESS SCRUBBING, MORE FREE TIME – Stop wasting your valuable time scrubbing your pans and start spending quality time with your family! The Bruntmor cast iron Dutch oven features an enamelled surface, which is 100% non-stick, so cleaning it becomes a breeze!

VERSATILITY IS OUR MIDDLE NAME – You can use our premium pre-seasoned cast iron cookware over any heating source effortlessly! Since it evenly distributes heat, you can use it on a stove, in an oven or even a campfire with the same incredible results!

AN AFFORDABLE MULTI-COOKER FOR YEARS TO COME – When it comes to cookware, durability is a top priority, with price a close second. The Bruntmor heavy-duty pre-seasoned cast iron cooker set combines sturdy design with an extremely competitive prices! Why wait any longer?
This post contains affiliate links.