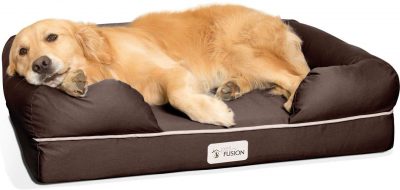 Calling all pet owners! Today only, save up to 25% on PetFusion Dog Beds and Premium Pet Blankets. Integrate your pet into the home. Modern and neutral designs that blend in. Smart functionality. Great value. Reclaim your bed or couch and give your dog the comfort and support they deserve. Click here for the PetFusion Ultimate Dog Bed oly $89.96 today. 
PREMIUM COMPONENTS & BETTER HEALTH: (i) SOLID 4 inch MEMORY FOAM base for superior overall comfort, reduced joint pain (arthritis) and improved health, mobility, & energy. (ii) Calming bed for dogs who suffer from anxiety. (iii) Recycled 'green' support bolsters are generously filled. (iv) Durable & comfortable polyester (65%) & cotton (35%) twill

SMART DESIGN: (i) Base & bolsters provide optimal support & security. (ii) Water resistant & tear resistant cover. (iii) Non-skid bottom. (iv) Blends in seamlessly with your home. (v) Replacement covers available separately

EASY TO CLEAN: (i) Removable cover is machine washable. (ii) Simple to spot clean & remove hair. Tumble dry on gentle setting. Do not use bleach when washing

IDEAL FOR MEDIUM / LARGE OR MULTIPLE SMALLER DOGS: (i) 36 x 28 x 9 inches. Can easily hold 100+ pounds. (ii) [Search Pet Fusion large pet blanket for new matching Blanket]

PEACE OF MIND: (i) Passes stricter European REACH safety standards. (ii) Cover fabric certified as 'SKIN CONTACT SAFE'. (iii) 'Bolsters' pre-loaded into cover, simply insert memory foam base & zip closed. (iv) 24 month on any part that is broken due to manufacturer defect

ADDED VALUE– EXCLUSIVE COUPON CODE FOR ROVER () nationwide Dog Boarding, Dog Daycare, Dog walking, Dog sitting services: (i)
This post contains affiliate links.