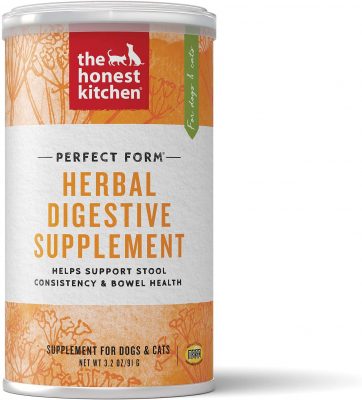 Treat your pet right with Today's Deal: Click here to save 25% on The Honest Kitchen Dehydrated Dog Food. Many pet food makers use stuff we never use from places we don't trust. The Honest Kitchen is made in the USA and never contains unsafe and unhealthy ingredients found in feed-grade products. This means no byproducts, fillers, additives, preservatives or GMO ingredients. Get the super popular The Honest Kitchen Herbal Digestive Supplement Pet food for Cats and Dog, only $7.49 today!
BEST-SELLING SUPPLEMENT: This customer favorite is a must-have for dogs or cats who deal with occasional loose stools from environmental stress, dietary indiscretion or the transition to a new diet.

GASTROINTESTINAL SUPPORT: It is an all natural supplement is made with herbs to soothe and protect the GI tract, combat gas, facilitate regularity and firm up loose stools.

HUMAN GRADE: The Honest Kitchen meets the rigorous FDA safety standards to use the label 'human grade', ensuring the highest quality cat and dog supplements.

ALL NATURAL: This wholesome supplement is made with no by-products, preservatives or GMO ingredients and is approved by the National Animal Supplement Counsel (NASC).

MADE IN THE USA: All ingredients are processed in the USA in a human grade food processing facility with nothing from China.
This post contains affiliate links.