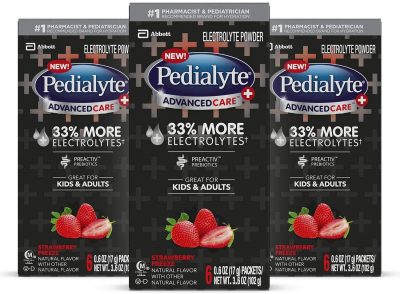 Stock up on sick-care for your youngest family members with today's deal: save 25% on Pedialyte Electrolyte Powder. Pedialyte AdvancedCare Plus Electrolyte Solution offers 33% more electrolytes* to replenish more of the electrolytes you lose when dehydration occurs. Rehydrate with Pedialyte AdvancedCare Plus to feel better fast.
Pedialyte Electrolyte Powder Sticks help prevent dehydration by replenishing fluids and electrolytes

From the #1 pharmacist and pediatrician recommended brand for hydration

Helps prevent mild to moderate dehydration more effectively than sports drinks, juice or water

Great for kids and adults to rehydrate and feel better fast, Available in a variety of flavors

Individual powder sticks are a better value and convenient way to stay hydrated – just add water (Versus Pedialyte Liquid Liters)

Eligible to be purchased with Supplemental Nutrition Assistance Program (SNAP) benefits

(in select stores, The SNAP (Supplemental Nutrition Assurance Program) name is a service mark of the U.S. Department of Agriculture. USDA does not endorse any goods, services, or enterprises.)
This post contains affiliate links.