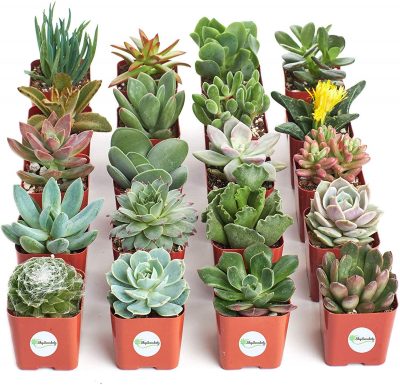 Save 25% on Live Succulents and House Plants today! This beautiful succulent assortment of 4 is a perfect addition to any garden; get it today for only $29.99! These 2-inch succulents are popularly used as favors for weddings and events. These packs include a beautiful array of colors and textures that are intended to amaze. Each package is meticulously packaged in Shop Succulents retail packaging which makes these packs a perfect gift! Each plant in these assortments will be a different species! Succulents come rooted in soil, in their 2-inch square pots and no two succulents are alike. All are packed in Shop Succulents retail packaging and come with helpful care instructions. Perfect favors for weddings, baby showers, and events. Beautiful color schemes that will light up a room. Please be sure to promptly remove the plants completely from their boxes. Often times the plants will need a little water, sun, and some loose soil gently brushed from leaves after transit.
Included in purchase | (20) succulents of different varieties. Each succulent may vary from pictures shown. Succulents come in 2 " square pots fully rooted in soil.

Watering needs | water 1x/week. During dormancy (winter), 1x every 2 -3 weeks. Completely soak the soil, then dry out completely before watering again. Do not use a spray bottle as water on leaves could cause damage.

Fertilizing needs | During the growing season, A balanced fertilizer, which has been diluted to 1/4 strength, can be added to the water for each watering.

Soil | sun | potting | use well-drained soil. Regular potting soil or dirt from your yard won't do. Choose cactus soil or mix potting soil with sand, pumice, or perlite. Be sure your containers have drainage holes.

| We strive to provide the highest quality plants delivered. 30-day Health . If plants arrive damaged or unhealthy, we will issue a full refund or replace your plant.
This post contains affiliate links.