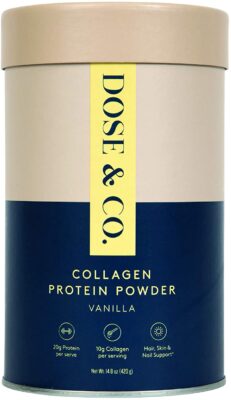 These products really have great reviews & feedback! Today only, save 25% on Dose and Co Collagen, with prices starting under $20! I've heard it is delicious and healthy to drink it in your coffee. This Dose & Co Collagen Protein Powder (Vanilla) 14.8oz (420g) – Non-GMO, Gluten Free, Sugar Free Collagen Peptides Supplement – 20g of Whey Protein is only $26.24. 
COLLAGEN PROTEIN: Dose and Co Collagen Protein is the perfect power blend of this high quality and sustainably-sourced ingredient. This powder is easily digested and absorbed by the body for maximum performance

HEALTH BENEFITS: Our collagen is free from gluten, sugars and GMO, and helps improve the health of your hair, skin, and nails. Each serve comes with 10 grams of Type 1-3 collagen, and is keto-friendly.

EASY TO ADD IN YOUR EVERY DAY LIFE: Dose and Co is easily added to hot or cold liquids, being soluble in everything from coffee and smoothies to tea and water. 1-2 scoops a day of Dose and Co is all you need to go about your day in the right way.

PLASTIC-FREE PACKAGING: Dose & Co packaging is proudly plastic-free – meaning you can look after yourself and the planet at the same time.

DOSE AND CO: We're believers in nourishing the body from the inside out, with effortless, everyday self care. That's the Dose & Co difference. A range of premium collagen products designed to fit seamlessly into your daily routine – wherever your day might take you.
This post contains affiliate links.