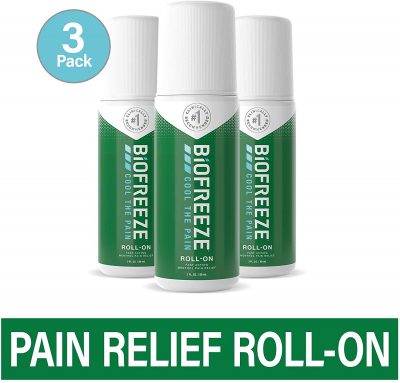 Feel better with Today's Deal: Save up to 25% off Biofreeze and Theraband! The selection includes bars, bands, creams and gels all to help roll away the pain! Click here for the Biofreeze Pain Relief Roll On 3 oz RollOn Fast Acting Long Lasting Powerful Topical Pain Reliever Pack of 3 for only $18.05 (don't miss the additional coupon). 
#1 Clinically Recommended: Trusted by pharmacists, physical therapists, chiropractors, massage therapists, podiatrists, and athletic trainers

Unique cooling menthol formula is backed by science and research-proven to deliver fast acting, long lasting and deep penetrating pain relief for sore muscles, backaches, sore joints, and arthritis

Trusted by some of the world's best athletes and athletic trainers

Pack of 3, 3 oz. roll-ons offer hands-free application via massaging roller ball and is TSA-approved, making it suitable for travel

Biofreeze roll-on applies easily and penetrates quickly for fast pain relief; product is not tested on animals, made with USP grade ingredients, and free of NSAIDs, parabens, and propylene glycol
This post contains affiliate links.