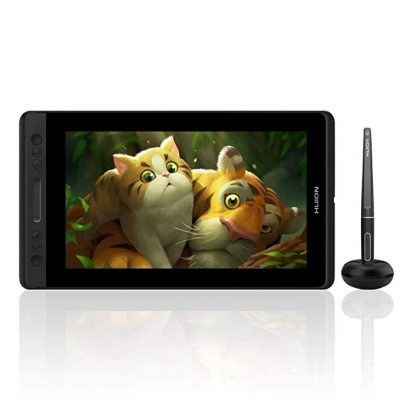 Save up to 25% on HUION Drawing Monitors. Featuring a 13 inches IPS Screen, the weight of KAMVAS Pro 13 is about 1KG and the thickness is 11mm, only a little thicker than a mobile phone. It is easy to put in your backpack and carry. Get the Huion KAMVAS Pro 13 GT-133 Graphics Drawing Monitor Tilt Function Battery-Free Stylus 8192 Pen Pressure for only $269.25.
Tilt Function Battery-free Stylus – Comes with 8192 levels of pen pressure, PW507 battery-free pen provides a more accurate and natural drawing experience; Plus with ±60 degrees of natural tilt recognition, you will have much more fun when drawing.

4 Press Keys and 1 Touch Bar – With 13.3 Inches IPS screen, not only save your time but also enhance your productivity; The weight of Kamvas Pro 13 is about 1KG and 11mm of thickness, only a little thicker than a mobile phone; Put the monitor to your favorite angle with the Multi-Angle Adjustable Stand.

120% sRGB Color Gamut – Comes with 266 PPS Report Rate, you can have better performance and quicker response when working on the pen display; The drawing monitor cannot only provide users with a wider field of view, but also offering richer colors and more natural transition.

Full-laminated Anti-glare Glass – Thanks to the full-laminated screen technology, the stroke you drew is accurate and natural, and almost without offset; Besides, the screen surface is covered with anti-glare glass, effectively reducing the "glare" effect and providing better protection for your eyesight.

Compatibility – Kamvas Pro 13 is compatible with Windows 7 or later and Mac OS 10.12 or later; It is also compatible with mainstream software like Adobe Photoshop, Clip Studio, Paint Tool Sai and more; Huion provides one year warranty.
This post contains affiliate links.