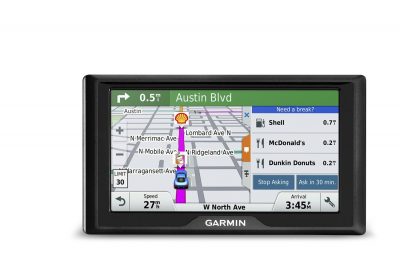 Looking for direction in your life? Check out today's deal and save 25% on Certified Refurbished Garmin GPS Navigation. You'll be paying from $55.99-$79.99 and getting a great certified refurbished deal! For example, you might choose this Garmin Drive 60LM USA (Certified Refurbished) for only $79.99.
This Certified Refurbished product is tested and certified to look and work like new. The refurbishing process includes functionality testing, basic cleaning, inspection, and repackaging. The product ships with all relevant accessories, a minimum 90-day warranty, and may arrive in a generic box. Only select sellers who maintain a high performance bar may offer Certified Refurbished products on Amazon.com

DRIVER ALERTS – Receive alerts for upcoming sharp curves, speed changes, school zones, a fatigue warning, nearby red light and speed cameras and more

EASY TO USE – Dedicated GPS navigators display current street, current speed, speed limit and arrival time

FOURSQUARE – Preloaded data from Foursquare adds millions of new and popular stores, restaurants and more

DIRECT ACCESS – Simplifies navigating to select complex destinations, such as malls and airports
This post contains affiliate links.