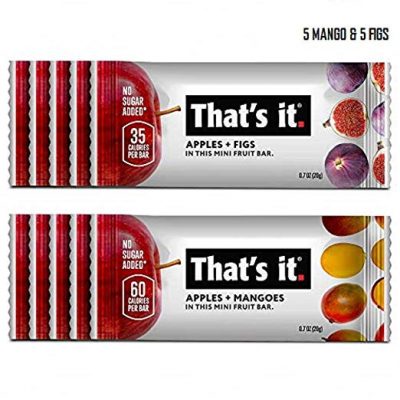 Today only, save 25% on That's It Natural Fruit Snack Bars! Looking for a better snack for your children? That's it Natural Fruit Bars could be exactly what you are looking for! Click here to snag the That's It mini variety pack, only $6.74 today!
STRAIGHT FROM THE TREE! 100% REAL FRUIT. That's It! The perfect snack packed with high fiber, no preservatives and no added sugars….That's it Fruit Bars provide the ideal stack for children, adults and athletes alike looking for the perfect organic, wholesome snack.

GRAB IT ON THE GO! And THAT's It! You don't have to feel guilty about this snack! That's It Fruit Bars provide a healthy choice for a snack on the go or a quick breakfast. Looking for balanced nutrition while traveling, heading to the gym, or just need to grab a satisfying mid-morning snack? That's it! Grab this healthy choice from your pantry!

WHOLESOME FRUIT ROLLED UP INTO 1 SWEET SNACK! Teens and toddlers absolutely LOVE the pure chewy natural fruit packed in That's It Fruit Bars! It's like getting two pieces of fruit in one. Sweet from the start, parents feel good about giving their children 2 pieces of fruit without the hassle of washing, peeling, or cutting.

ENERGY FOOD FOR ENDURANCE ATHLETES: When it comes to nutrition, athletes want to know that they can fuel their bodies with sustainable energy! That's it Fruit Bars are loaded with 22 grams of carbs per serving for sustained energy that will get you to the finish line. Gluten-Free and pure vegan snack…. That's it!

BEST CAMPING TRAIL FOOD: With 1 apple PLUS 12 Mango/Fig pressed into one, take this in your backpack to school or camping on the trail for a delicious fruit snack. That's it Fruit Bars have a shelf life of 2 years, so add them to your emergency preparedness kit for your family!
This post contains affiliate links.