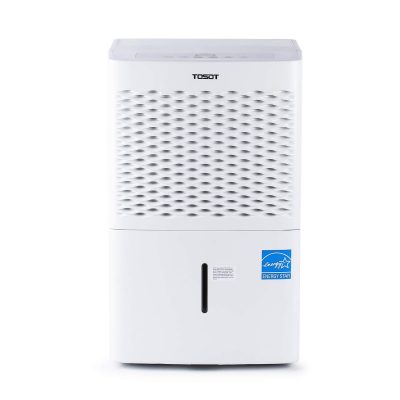 Save up to 23% on TOSOT Dehumidifiers today! The main factors in choosing a dehumidifier are the size of your space and the normal level of humidity in that space. A dehumidifier's size capacity is defined as the amount of moisture that can be removed from your space in a 24-hour period under normal operating conditions. The chart on the left will give you a rough idea of the dehumidifier you need based on the size of your space. Get the TOSOT 50 Pint Dehumidifier for mid Size Rooms up to 3000 Square feet for $170.99. 
50 PINT ROOM DEHUMIDIFIER: This sized unit is perfect for basements or other medium-sized rooms. In just one day, you can remove up to 50 pints (6 gallons) of moisture from your home. Not only are humid homes sticky and uncomfortable, the high moisture levels can damage your health and your belongings.

ENERGY STAR RATED: We don't have to all become tree-hugging hippies to agree on climate change (it's real) but one thing we can all agree on is the sweet relief of saving a few bucks on your monthly energy bills, am I right? Energy Star-rated appliances are not just better for the environment, but also for your wallet.

BASEMENT DEHUMIDIFIER: By pulling moisture out of your dingy basement you can create a more comfortable and safe environment for your family.

QUIET OPERATION: You don't always see it… but that's the point. A peak sound level of 48 decibels means you'll hardly notice the dehumidifier is running. For comparison, 50 decibels is about as loud as a secluded suburban street or a normal conversation at home, so you will never have to choose conversation over comfort again.

POWER OUTAGE RESTART: If you experience a power outage due to a storm, you do not want to have to go around resetting all of your applainces and electronic devices. TOSOT dehumidifiers will revert back to their previous settings once power is restored, giving you one less thing to worry about after you get back on the grid.
This post contains affiliate links.