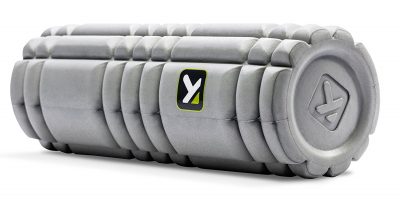 If you have never tried foam rollers for massage, this is a great chance! Today only, save up to 22% on Trigger Point foam rollers. TriggerPoint CORE Foam Rollers offer a solid-core design and durable EVA foam construction to withstand years of repeated use. Unlike standard polypropylene foam rollers that are rock hard when new and can quickly break down and become soft, the CORE is made from EVA foam that has greater resilience after compression. The CORE's consistency provides moderate pressure and delivers a premium massage with minimal discomfort. Its Grid pattern technology makes it the only solid foam roller on the market to channel blood and oxygen while you roll. Get the TriggerPoint CORE Multi-Density Solid Foam Roller for only $16.09. That's a savings of 20%. 
Solid-core EVA foam roller is more durable than standard polypropylene rollers that can break down and become soft

Unique multi-density GRID pattern provides targeted compression ideal for self-massage, relieving pain and improving flexibility

Versatile 12-inch length is perfect for most muscle groups

12-inch TriggerPoint CORE foam roller; moderate compression

Includes access to free online instructional video library on foam rolling exercises from the experts at TriggerPoint; approximately 12 x 4 inches; 325 pound weight limit; 1 year manufacturer's warranty
This post contains affiliate links.