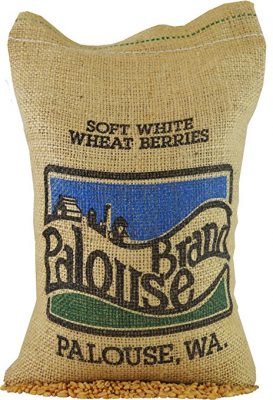 If you want to turn over a healthy leaf, this is the deal for you. Click here to save 20% On Premium Legumes and Wheat Berries. Palouse Brand is a 5th generation, family-owned and vertically-integrated farm that grows, cleans, processes, packages, and ships premium legumes and grains directly to customers around the world. Try Soft White Wheat Berries | Non-GMO Project Verified | 100% Non-Irradiated | Certified Kosher Parve | USA Grown |Identity Preserved for $11.16 (or less if you select Subscribe & Save). 
These Wheat Berries are as fresh as you can find! How many other people can tell you the exact field location and date we seeded and harvested?

Field Traced (Identity Preserved) – each bag comes with a code you can enter on our website to identify the field we grew it in and harvest date.

Wheatberries are known for being a good source of magnesium and vitamins B1 and B3. Use them as a pilaf, in soups or stews our other customers also enjoy them as a crouton replacement.

Our food products are NOT Irradiated (an accepted practice that exposes your food to radiation for sterilization). Our Wheat Berries will sprout!

We are proud of being Certified Kosher Parve, Non-GMO Project Verified, Food Alliance Certified and carrying the quality seal from the USA Dry Pea & Lentil Council.
This post contains affiliate links.