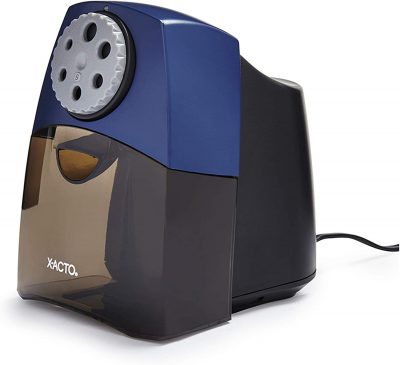 Like it or not, it's that time of year! Whether you are distance learning, attending school in person, or homeschooling as we do, you'll definitely need some supplies. Save 20% or more on Paper Mate, Expo, and others today. Stock up on pens, markers, glue and everything else your student will need. Engineered and designed specifically for classroom use, the X-ACTO Teacher Pro Classroom Electric Pencil Sharpener combines smart sharpening technology with rugged construction for dependable performance. This sharpener utilizes a flyaway helical cutter to sharpen pencils to rounded tips without over-sharpening. A powerful electric motor delivers reliable sharpening power, while an Auto-Reset feature helps prevent overheating. Click here for the X-ACTO Electric Pencil Sharpener | Teacher Pro Pencil Sharpener for Classrooms, Quiet Electric Motor, Adjustable to Six Pencil Sizes for $26.17. 
Heavy duty electric pencil sharpener designed specifically for classrooms

Durable construction stands up to wear and tear

Quiet electric motor provides reliable power with minimal disruption

Flyaway cutter system stops cutter automatically when pencil is sharp

Helical steel cutter produces safe, rounded pencil points
This post contains affiliate links.