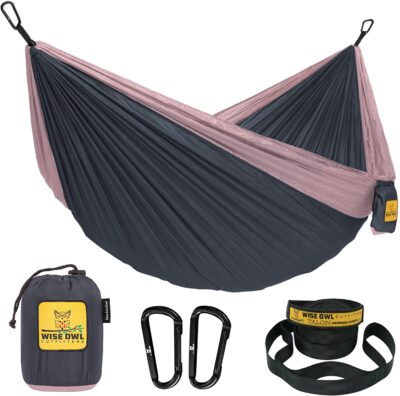 Our strong hammock is a sensible solution that's stitched to last! It's equipped with 2, 9-ft Talon straps, 2 O-shaped carabiners, and an attached storage bag. As durable as it is easy to set up, our hammock is a camping essential. When not in use, roll up your Wise Owl Outfitters camping hammock into the attached storage bag. When unrolled, the bag doubles as a pocket for your phone, drink, or other items. No larger than an eggplant when compact, this hammock is perfect for toting around on outdoor adventures. Our lightweight hammocks come in a variety of different color combinations to coordinate your gear as well as two sizes to suit your needs. The Single Owl comfortably seats one person, and can hold up to 400 lbs. The Double Owl can hold up to 500 lbs., and is perfect for two. Save 20% on Wise Owl Outfitter Hammocks and Camping Pillows today!
Nylon

Comfortable: Whether you're relaxing by the fire or sleeping under the stars, our camping hammock has everything you need to stay comfy and covered throughout the night for your next fall camping trip, or even just lounging in your backyard.

Compact: Lightweight and convenient, our travel hammock weighs only 24oz and folds to the size of an eggplant. Single Hammock measures at 9 feet long by 4.5 feet wide for one person, and the Double Hammock measures 10 feet long by 6.5 feet wide for either two people or anyone who wants some extra space. Throw it in your backpack and go!

Easy Setup: Equipped with 9ft long tree straps and carabiners, our tree hammock makes setting up a breeze. It also features 5 separate loops, so you can adjust it to the perfect height. Single hammock holds up to 400 lbs, while the Double Hammock holds up to 500 lbs.

Premium Quality: Built to last a lifetime, our heavy-duty hammocks for camping are crafted with soft yet strong parachute nylon and triple interlocking stitching, along with strong carabiners and tree friendly hammock straps

Holiday Gifts: If you're looking for a thoughtful holiday gift for the outdoorsy person in your life, look no further! Our camping hammock makes for a great hiking and camping gifts for men and women.
This post contains affiliate links.