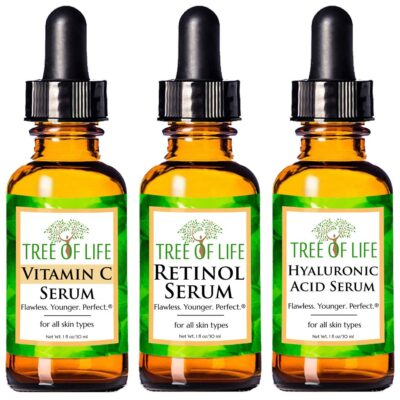 Save 20% on Tree of Life Clean Skin Care today! If you are looking to capture a look and feel of softer, more touchable vibrance, Retinol is shown to have incredible effects in long-term use for skincare regimens. Whether you are hoping to stop the signs of aging or help your skin retain its youthful look and feel, our Retinol Serum is your choice for a soothing and softening experience that your skin will truly fall in love with every time you use it. Click here for the Tree of Life Anti-Aging Complete Regimen 3-Pack, Vitamin C Serum, Retinol Serum and Hyaluronic Acid Serum, Renew, Revitalize and Brighten, 3 Count x 1 Fl Oz, only $15.96. 
The Ultimate Skin Revitalizing Set: Vitamin C brightens in the AM; Retinol renews while you sleep; Hyaluronic acid is the perfect day or night solution to lock in moisture to reduce appearance of fine lines

Vitamin C is your wake up cure with powerful antioxidants that protect and brighten skin, Hyaluronic acid is paired with orgnic green tea extract for powerful antioxidants to protect skin, Clinically tested retinol resurfaces skin, while organic aloe, jojoba, and vitamin E soothes and moisturizes

Start your day with Vitamin C serum followed by Hyaluronic Acid, At night after cleansing your face, apply retinol serum and follow with Hyaluronic Acid Serum, Avoid applying Retinol and Vitamin C at the same time to maximize benefits

Only the good, none of the bad: Certified Cruelty Free; Certified Vegan; No Parabens

Quality at the Core: Founded by a scientist with the mission of making a better product that was affordable; tested by dermatologists; loved by customers; love it or return within 30 days for your money back
This post contains affiliate links.