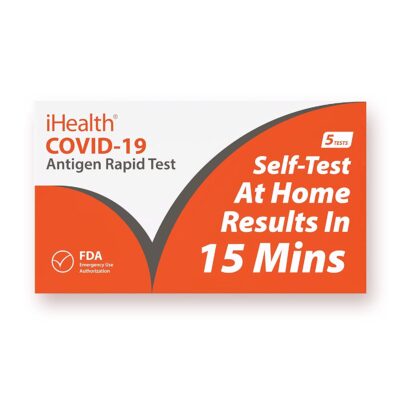 School is back in session and winter is coming so you want to make sure you have plenty of COVID rapid test on hand. Click the 20% off coupon and get a 5-pack of iHealth COVID Home Test Kits for just $35.96!
-Expiration Date Extension: On July 8, 2022, the FDA granted another three-month shelf-life extension for the iHealth COVID-19 Antigen Rapid Test, which extended the shelf-life of all iHealth tests from 6 months to 12 months. Please refer to the FDA website for the detailed list of extended expiration dates by lot numbers: https://www.fda.gov/media/158007/download
-FDA Authorized 15-Minute Self-Test: The test is a 15-minute self-test to detect whether or not an individual has COVID-19. The test can be completed in the comfort of your own home without the need to ship your sample to a lab.
-Easy to Use with Zero Discomfort: Test can be done by inserting 1/2 to 3/4 inch of a simple non-invasive nasal swab. Step-by-step instructional videos are available in our app (Installation of app is optional).
-For Ages 2 and Above : The self-administered test is recommended for individuals aged 15 years and older. Adult-collection is required for testing children 2-14 years old.
-Manage Group Testing Via Mobile App: The iHealth Test app allows the administrator of a small group to monitor and track the group members' test results as needed at school, work or an event.
Remember, Amazon prices can change at any time.
This post contains affiliate links.