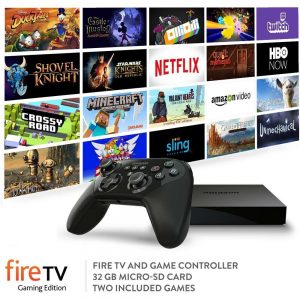 For a limited time save $15 on Amazon FireTV Gaming Edition, making the price only $124.99!
Fire TV Gaming Edition is everything you need for easy, affordable gaming on your HDTV – including Amazon Fire TV, Game Controller, two games, and a 32 GB microSD card for expanded storage

Includes two games ($24.98 value) – award-winning Shovel Knight and critically-acclaimed Disney DuckTales: Remastered

Take gaming to the next level with the included Fire TV Game Controller, designed to fit comfortably in your hands with precise and responsive controls. Plus enjoy private listening using the headphone jack with Dolby Audio support.

Enjoy console-style gaming with an up to 2 GHz quad-core processor, dedicated GPU and 2 GB of memory

With over 800 games, more than any other streaming media player, there is something for the entire family, including Minecraft, Lego Star Wars, and Pac-Man 256

Say it. Watch it. Say the name of what you want to watch and start enjoying in seconds. Now with Alexa, use your Fire TV Game Controller to check sports scores or the weather, play music, and more – instantly.

Amazon Fire TV now supports 4K Ultra HD for true-to-life picture quality. Enjoy over 4,000 channels, apps, and games including access to over 250,000 TV episodes and movies on Netflix, Amazon Video, HBO GO, Hulu, and more.