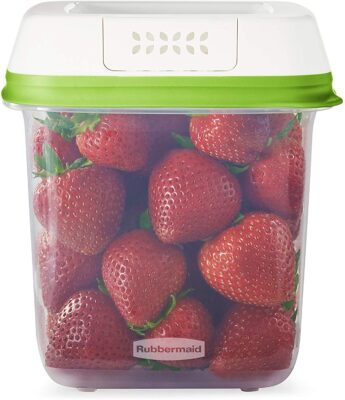 Place fresh produce in FreshWorks containers as soon as you get it home. FreshVent Technology and the elevated base will help produce stay fresher longer. Get the Rubbermaid FreshWorks Saver, Medium Produce Storage Container, 7.2-Cup, Clear for only $7.99 for a limited time!
KEEP PRODUCE FRESHER LONGER: Rubbermaid FreshWorks Produce Saver uses FreshVent technology to regulate airflow, so your produce stays fresher longer.

BUILT-IN FILTER: The built-in FreshVent filter in these Rubbermaid containers regulates the flow of oxygen and carbon dioxide to create the optimal environment for your fresh produce; the filter lasts a lifetime—no refills needed

ELEVATED BASE: The elevated base in these plastic containers lifts produce away from moisture and promotes proper airflow

EASY-CARE: BPA-free containers are dishwasher-safe

EASY TO USE: Simply place unwashed and uncut produce in the FreshWorks container and place container in the fridge; FreshWorks works best when only one type of produce is stored in a container

SPACE SAVING: Modular, space-efficient design for easy kitchen organization; bases nest inside each other, and one lid fits multiple bases

WHAT YOU'LL USE IT FOR: Strawberries, blueberries

SET INCLUDES: One 7.2-cup medium container and lid, for a total of 2 pieces
Remember, Amazon prices can change at any time.
This post contains affiliate links.