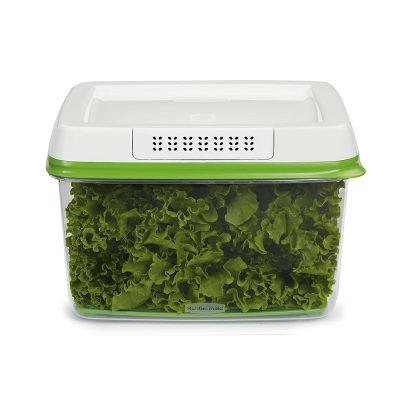 Here's a great tool to keep produce fresh for even longer! Right now, get the Rubbermaid FreshWorks Produce Saver Food Storage Container, Large, 17.3 Cup, Green for only $7.91 as an Add-on item. Add-on items ship with qualifying purchases over $25. This is $8 off the listed price and the lowest price on record for this container!
Large container holds 17.3 cups

Save money, food, and trips to the grocery store, by keeping produce fresh up to 80% longer with FreshWorks (Based on strawberries in FreshWorks containers vs. store packaging. Results may vary depending upon produce and use.)

FreshWorks works best before you wash produce, so you can store now and prep later

CrispTray helps keep moisture away from produce to reduce spoilage

FreshVent technology regulates flow of oxygen and carbon dioxide for the ideal produce environment; vent filter never needs to be replaced

Completely dishwasher safe

BPA-free
Remember, Amazon prices can change at any time.
This post contains affiliate links.